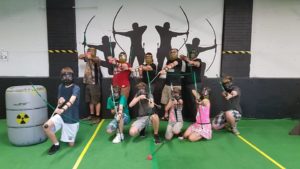 Birthday Parties:  If you are looking for something different this year to celebrate a birthday then look no further! Archery 2 You provides parties for ages 10 and up, bringing the fun to you!  We offer both mobile and on site options to fit your birthday party needs!
$25 per person
 1 hr and  30 minutes
***Entire facility will be booked as a private event and therefore closed to the public!
Large lounge for guests and tables available for set up
You are welcome to bring in your own food and beverages
Equipment for up to 16 players is provided: bows, foam-tipped arrows, safety masks and arm guards for Archery Tag Parties and safety glasses, nerf guns and nerf darts for NERF wars Parties
Green Arrow  or Archery-Rex available by request
***Due to the strength required to pull back our bows, zing bows and even nerf guns, our parties are recommended for 10 years. Therefore ALL participants MUST be 10 years and older to play.***
Party Options:
Archery Tag Party:  Archery tag instruction, target practice and a variety of archery tag games
NERF Wars:  A variety of games using Nerf guns
Archery Competitions:  Archery instruction, target practice and competitions between participants
Survivor Party:  "Survivor" game show themed party where guests are divided into tribes and compete in a variety of challenges including an archery challenge.