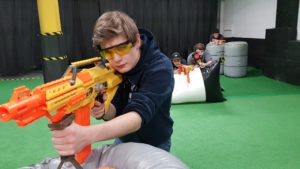 New to Archery 2 You is NERF Wars!
Enjoy our wide range of nerf guns
Inflatable bunkers to hide behind
$20 per person for 60 minutes  or  $25 per person for 90 minutes
Although less strength required, our nerf guns do need strength to pull back as do our zing bows.  We have found children younger then 10 years old  have struggled with this, therefore we recommend that participants be 10 years and older.
Minimum of 6 participants required for booking of Nerf Wars
Call 905-410-7959 to book Nerf Wars games