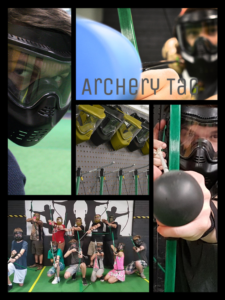 We offer archery tag for ages 10 and up. The fun of the game of tag but elevated by the challenge of archery.
Is it safe for kids? YES! It's SAFE Enough for KIDS, but fun enough for all! The Archery Tag arrows are specially designed for safety. Arrows use soft foam tips and travel at a relatively slow velocity to minimize danger and pain from impact. Masks are worn at all times to protect the eyes and face and purposeful "head shots" are illegal in the game of Archery Tag. We offer a variety of games to keep our participants fully engaged and having fun!
ARCHERY TAG GAMES:
$25 per person for 90 minutes

30 minutes instruction and target practice

60 minutes game play

All equipment provided ( mask, arm guards, bows and foam tip arrows)
***Note: waiver must be signed prior to start of game
***Due to the strength involved in pulling back the bow, all participants MUST be 10 years and older to play archery tag***
To guarantee your spot during the time you want please reserve in advance. Walk-ins will join games on a first come, first serve basis and upon availability of spots in the game.
***Please bring a clean change of shoes- muddy or wet shoes will not be allowed on the field.