Archery 2 You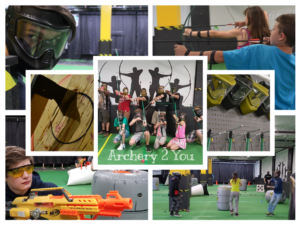 60 Celina St.
Oshawa, Ontario
905-410-7959
Archery bridges the gap between ages and abilities.  Our aim is to bring the joy of archery to as many people as possible. We offer you the opportunity to learn archery through lessons, experience the thrill of playing archery tag and a chance to practice your developing skills with time on the archery range.  Archery 2 You also has other fun things to do like NERF wars, zing bow wars and our hatchet wall. Archery 2 you has something for everyone!
Hours of Operation:
Monday: 7:00 pm to 10:00 pm
Tuesday:  LEAGUE NIGHT
Wednesday: 7:00 pm to 10:00 pm
Thursday: 7:00 pm to 10:00 pm
Friday:  7:00 pm to 10:00 pm
Saturday: 11:00 am to 10:00 pm
Sunday:  CLOSED
Extended hours available upon request
Private lessons: $30 for 1 hr
Group lessons: $20 for 1 hr per person (maximum of 8 participants) includes equipment rental
4 Week Beginner Classes: $60 for 4 weeks (includes all equipment)
4 Week ASD and Special Needs Beginner Archery Program: $60 for 4 weeks
Archery Range: $15 for 1 hour  (add $5 equipment rental if using our bow and arrows)
Archery Tag: $25 per person for 90 minutes
Hatchet Throwing: $25 per person for 60 minutes
 NERF Wars and Zing Bow Wars: $20 per person for 60 minutes
AGE RESTRICTIONS:  
Lessons: During our archery lessons, we have bows that can accommodate children as young as 6 years old, however we are always happy to test your child on one of our bows prior to registering them for any of our lessons.
Archery Tag: Due to the strength involved pulling back our bows, all participants MUST be 10 years and older
Nerf and Zing Bows:  Although less strength required, our nerf guns do need strength to pull back as do our zing bows.  We have found children younger then 10 years old  have struggled with this, therefore participants must be 10 years and older.
Axe Throwing: All participants MUST be 18 years and older